Attention NJB Families: School Start Reopening Calendar Survey Results and SCUSD Return Together Plan
Thank you for your input and feedback for our Fall reopening start date. Please read information carefully regarding our survey results and SCUSD's plan .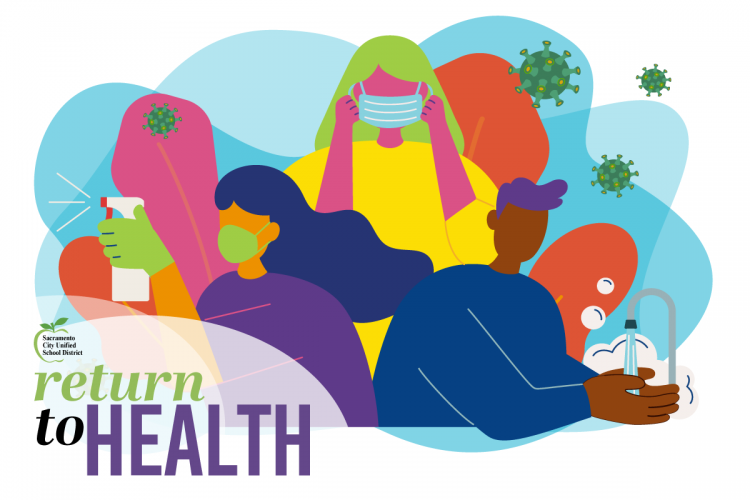 Please read the survey results needed for the success of the calendar start date. We will share more information such as the school's start date and remote distance learning plan once finalized. Also included is the latest from Governor Newsom's office of reopening safe schools and COVID-19 information.
This summer, SCUSD has been hard at work collaborating with experts and districts throughout the country to create a Return Together plan that meets students' academic, social and emotional needs.
Learn more about the status of key areas below, including the Return to Health Plan which has moved into Phase 2.
The COVID-19 crisis and recommendations from the state and county officials continue to change. We ask our community to be prepared should our plans need to change based on public health considerations. We will provide frequent updates and additional details as we move toward September 3, when our 2020-21 academic year begins.
Over the past few weeks we have gathered feedback, through surveys of students and parents, as well as meeting with community stakeholders.
The Return Together plan will focus on the following key areas:
Return to Health: Health & Safety
Return to Learn: Academics
Return to Play: Athletics
Return to Connect: Attendance and Engagement
Return to Support: Climate and Culture
Return to Nutrition: Meal Services
Status of Key Areas
Phases
Phase 1: Research & Data
Phase 2: Recommendations & Outreach
Final Plan
Key Areas
Return to Learn
Return to Play
Return to Connect
Return to Support
Return to Nutrition
Return to Health

Health & Safety: Return to Health
We are moving into Phase Two!
View the Draft Return to Health Planning document here:
This is a draft document and may change as we gain feedback from you and negotiate with our labor partners.
Explore the Return to Health Plan webpage, including information and resources here:
https://www.scusd.edu/return-together-recommendations-outreach
The safety of students and staff remains our top priority. We have reviewed guidance from multiple sources and looked at the details at each school site to create a safe and healthy environment for when our students return. As such, we propose to implement the following protections for our students and staff:
Face coverings will be required for students and staff. We will provide face coverings for those who need one and shields for those unable to wear a face covering or mask due to medical reasons.
Physical distancing will be required as it is key to helping us stop the spread of COVID-19. Schools sites will redesign classrooms, hallways, and other common areas to make this possible.
Students and staff must screen for symptoms daily before coming to the school site (passive screening). We will also conduct temperature and symptom checks at the school site (active screening).
Students and staff must wash their hands throughout the day. Hand washing and hand sanitizing stations will be positioned throughout sites.
Sites will disinfect spaces throughout the day.
Next Steps for Return to Health Plan:
https://www.scusd.edu/return-health
Continued Community Outreach
Presentation to the SCUSD Board on July 16
Continued negotiations on this proposal with our labor partner, the Sacramento City Teachers Association. You can view our proposal here.
As we share our plans with our students, families and community, we also share them with our labor partners. Our plan is rooted in ensuring that all our students have access to a full curriculum during the 2020-21 school year with maintaining health and safety conditions for all. We look forward to discussing our plan with our labor partners on how our plan might impact working conditions for our employees.
If you'd like to see the District's draft plans on returning to school, please click on the link above to our comprehensive plans.
If you'd like to see the negotiations proposals that the District has made to our labor partners on those aspects of these plans we believe to negotiate, please click here.
https://www.scusd.edu/return-together-negotiations